Raphael Polinar
Raphael Polinar's Latest Posts
1521 The Battle of Mactan takes place. At around 3:00 in the morning of this day, a Spanish force of 60 soldiers and an equal number of Cebuanos reaches Mactan. Faced by a force of some 1,500 Mactan inhabitants, The Spaniards are defeated and their leader, Ferdinand Magellan, is killed. 1565 The Spanish expedition of […]
1780 A royal decree establishes Samboan, Cebu, as a parish. This is confirmed by a decree of the Bishop of Cebu on November 3, 1784. 1954 Florentino D. Tecson takes his oath as Vice-Mayor of Cebu City upon his appointment by the Philippine President. 1958 A bishop's decree recreates Talamban, Cebu, as a separate parish.
1905 Capt. William E. Jordan Jr., assumes command of the U.S. garrison in Cebu, succeeding Lt. Col. William Paulding.
1947 The world-famous Image of the Virgin of Fatima of Portugal arrives in Cebu and is received by a huge crowd at Cebu Airport. Leading the Cebuano faithful is Archbishop Gabriel M. Reyes.
1622 A battle between a Spanish expeditionary force and 1, 500 rebels in Bohol takes place. The Spanish force consists of 50 Spanish and 1, 000 Cebuano troops under Juan de Alcarazo, alcalde mayor of Cebu. The Bohol rebellion is quelled after two weeks. 1961 Toledo is formally inaugurated as a chartered city under Republic […]
Naglangoy sa Langit Yu, Hope. Naglangoy sa Langit Mga Gumalaysay Winner of the NCCA Writers Prize Cebu: University of San Carlos Press, 2019. P 650.00 in the Philippines *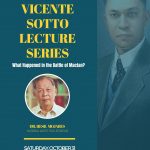 The USC Cebuano Studies Center invites you to the second lecture of the Vicente Sotto Lecture Series with National Artist for Literature, Dr. Resil Mojares, on 31 October 2020, Saturday at 2 PM to 4 PM on Zoom. To join, kindly register at this link so that we can provide you with the Zoom […]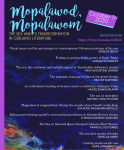 InOtherWords Incorporated, under the sponsorship of the National Commission for Culture and the Arts, and in cooperation with the University of San Carlos Cebuano Studies Center, Mga Anak sa Dagang (MAD) and Pulong sa Mga Alagad sa Obra (PALABRA), will conduct an online conference "Mopalawod, Mopalawom: The Sea and Its Transformations in Cebuano Literature" on […]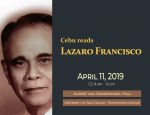 Still in line with the NLM celebration was the event dubbed as CEBU READS LAZARO FRANCISCO, held in the Fr. Albert Van Gansewinkel Hall in the University of San Carlos-Downtown Campus last 11 April 2019 from 8:00 am to 12:00 pm. Under the sponsorship of the NCCA, KWF, and the USC Cebuano Studies Center, in […]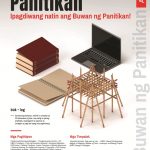 In accordance with Proclamation No. 968, signed in 2015, the National Literature Month (NLM) is celebrated every April, under the auspices of the National Commission for Culture and Arts (NCCA), Komisyon sa Wikang Filipino (KWF) and the National Book Development Board-Philippines. This year's theme was BUKLUGAN PANITIKAN, a phrase adapted from buklog, the Subanen ritual for […]