InOtherWords Incorporated, under the sponsorship of the National Commission for Culture and the Arts, and in cooperation with the University of San Carlos Cebuano Studies Center, Mga Anak sa Dagang (MAD) and Pulong sa Mga Alagad sa Obra (PALABRA), will conduct an online conference "Mopalawod, Mopalawom: The Sea and Its Transformations in Cebuano Literature" on October 5, 2020 (Monday) from 9 a.m. to 2 p.m. via Zoom and Facebook Live.
The sea's historical significance and geographic prominence across the archipelago, particularly in the Visayas region has not been adequately addressed in literature. Very few studies have been undertaken that look into how exactly the sea influences and figures in the Cebuano imagination. This conference aims to address this challenge.
Mopalawod, Mopalawom features papers that analyze, investigate, and dissect various representations of the sea in Cebuano literature. Topics range from environmental literature and the sea, fantasy and the sea, seascapes in literature, travel writing, visual art, island culture, Cebuano writers and the sea, philosophy, leisure and the sea. An anthology featuring selected articles will be published from the conference.
The event is free and open to the public. Kindly register through this link: bit.ly/mopalawod2020
For inquiries, contact Ma. Sheena Ceriales through email at inotherwords.inc@gmail.com or landline (32) 401-2300 local 308.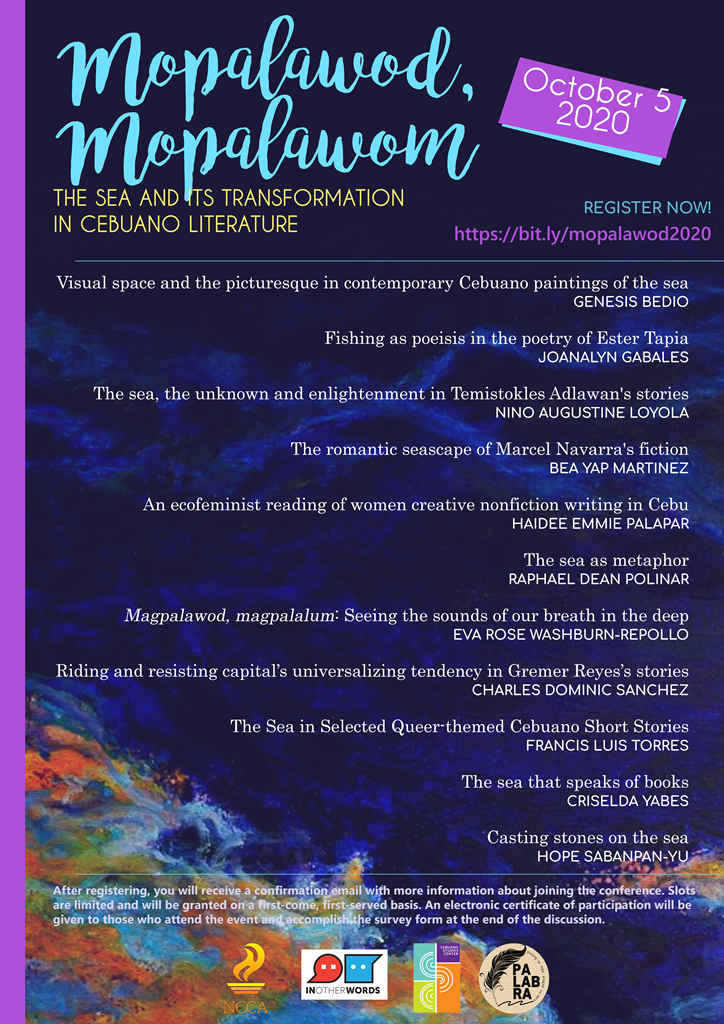 Category: Events, Lectures and Seminars