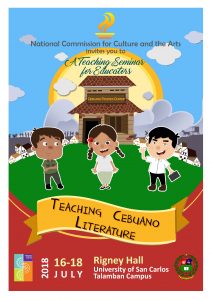 The Cebuano Studies Center of the University of San Carlos (USC) will hold "Teaching Cebuano Literature: A Seminar for Educators on July 16-18, 2018 at the Rigney Hall of USC Talamban campus.
The seminar will (re)introduce Cebuano literature to teachers and offer them innovative ways and approaches of teaching Cebuano literature.
"The center aims to assist in the development of critical reading and teaching of Cebuano literature on the primary, secondary and tertiary levels in the light of the reformation in the K-12 curriculum," Dr. Hope Sabanpan-Yu, director of the Cebuano Studies Center, said. "It likewise seeks to highlight and foreground issues that reflect the problems that concern teaching such as materials and references, translation and others.
"This is also to inculcate to teachers the importance of interdisciplinary approaches in the study and presentation of materials and texts," Yu added.
The seminar will bring together scholars, experts and educators from diverse backgrounds.
The seminar will feature lectures and demo-teaching presentations on the different historical periods that influenced and produced Cebuano literature.
Lecturers are Ms. Haidee Emmie K. Palapar for Precolonial period; Mr. Trizer Dale Mansueto for Hispanic period; Ms. Joanalyn P. Gabaales for American period; Ms. Liean Haney Rama for Postwar period; and Ms. Cindy Velasquez for Cotemporary period.
Registration fee is at Php 1,500 for the two-and-a-half day seminar. Registration covers the seminar kit and certificate only.
For those interested, the registration form is available here.
For further questions, please contact Sheena Ceriales at (32) 2300-100 local 308 or by mobile 09556246105 or Raphael Dean Polinar 09273627350 or by email at cebuanostudies@gmail.com
Category: Events, Lectures and Seminars