CSC Admin
CSC Admin's Latest Posts
1872 Fathers Burgos, Gomez and Zamora are executed in Bagumbayan. 1923 Death of Tomas R. Baguio (1885-1923), native of Cordoba, Mactan, and prominent poet and journalist.
1901 Pantaleon del Rosario, revolutionary leader, acknowledges receipt of reports of the wavering of patriotism among the principal residents of Carcar: "they appear about to give way to their discouragement and finally recognize American sovereignty." Among others, del Rosario suggests the deployment of insurgent forces in the town to inspire inhabitants with respect for the […]
1897 General Adolfo Montero arrives in Cebu to assume the position of politico-military governor of Cebu. He succeeds General Celestino Fernandez Tejero y Mulet.
1952 A legal battle continues to be waged over the controversial jackpot machines in the city. Jackpot machine operators contest a city ordinance banning the machines is getting an injunction order naming City Mayor Pedro Elizalde and Police Chief Nicolas Gabutina respondents.
1846 Birth of Benigna Cui (1846-1926), well-known Cebu philanthropist and businesswoman. 1857 A bishop's decree confirms the erection of Tuburan, Cebu, as a parish. Its patron saint is San Antonio de Padua.
1877 A bishop's decree confirms the erection of Nueva Caceres as a parish. It is separated from Boljoon and placed under the patronage of San Jose. 1890 An ayuntamiento is established for the second time in Cebu (the first was abolished because of the lack of personnel). It is composed of an alcalde, two lieutenant […]
Fiesta of Catmon, Cebu Fiesta of Dalaguete, Cebu 1888 Birth in Compostela, Cebu, of Escolastico Morre (1888-1921), known as "Errone", editor and writer. 1899 The officials of the Philippine Republic in Cebu meet to discuss preparations for the impending war against the Americans. The meeting is called by Luis Flores. Juan Climaco is placed in […]
1657 A royal decree is passed requiring Chinese mestizos to pay double the amount for tribute paid by natives, following what, at this time, was already the practice in Cebu. 1901 Gen. Arthur MacArthur asks the commanding general of the Visayas Military District which provinces are ready for the establishment of civil government under Act. […]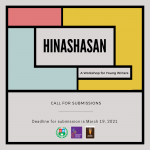 The University of San Carlos Cebuano Studies Center, in association with Mamugnaong Anak sa Dagang (MAD), is now accepting submissions for Hinashasan: A Workshop for Young Writers, to be held online, from April 9 to 10 (Friday and Saturday), 2021. The aim of this workshop is to discover and cultivate promising young literary talent from […]
1890 Birth in Dalaguete, Cebu of Cebuano poet Amando N. Osorio (1890-1946). Osorio served as Dalaguete Mayor and Cebu Deputy Governor. 1919 The first issue of El Espectador (1919-1922), comes out. This newspaper was published and edited by Manuel C. Briones. 1935 The Philippine Constitution is adopted by the Constitutional Convention.